AutoMail® employs functionality to import exclude lists of account numbers, and keyword descriptions to accompany.
RULES FOR MAINTAINING ACCOUNT NUMBER / EXCLUDE-TYPE DESCRIPTION IMPORT LISTS:
1. Use a "text file" (i.e. Notepad) list as a managed repository for managing (adding or deleting)
acct numbers to be excluded from the AutoMail manifest.
2. You can add or change the Exclude-Type descriptions, BUT any addition or change
will need to be performed to the exclude-type in AutoMail's 'Special Handling' screen.
3. It is VERY IMPORTANT that the account number and / or description (exclude-type)
remain separated, and that each remains in its own consistent starting
position / column.
Example:
1234567 MyDescription
12345678 SomeOtherDescr
1234567890 AnotherDescr
7685940329 MyDescription
a. Notice that the exclude-type description stays in the same column.
b. Notice that the account number stays in the same starting column.
This will typically be column 1 anyway.
c. No "tabs" to separate the two. Use actual spaces (with your space-bar) only.
HOW TO IMPORT AN ACCOUNT NUMBER / KEYWORD LIST IN AutoMail®:
1. In Special Handling menu, click the

button at the bottom of the screen.
2. Complete the Import Keywords for Special Handling form.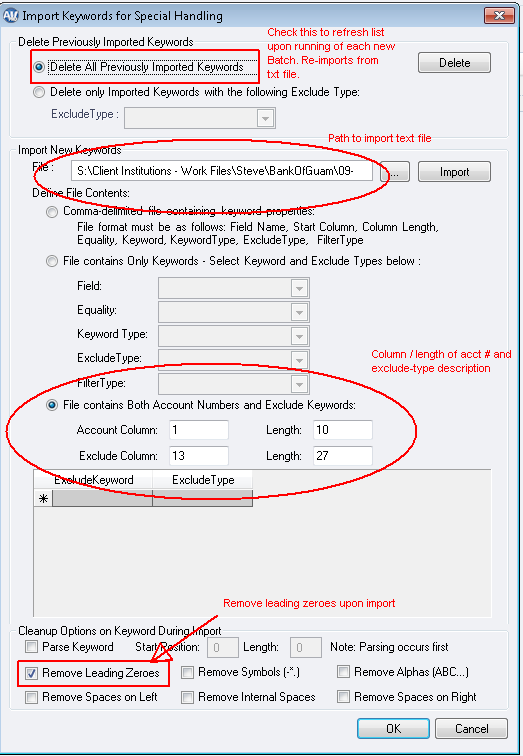 3. This configuration will refresh account number list upon each running of a Batch within the given Profile in AutoMail®.
4. Remember, use the text file to modify / add / change / delete any account numbers and their relative exclude-type descriptions.
5. All custom exclude-types must be entered in Exclusion From Mailing on the Special Handling screen.