Last Action: displays the present disposition, date and time the Batch was created.
Document Count: total number of documents identified from Batch
Page Count: total number of pages identified from Batch
Addresses Coded: total number of addresses for which a valid match was found in the CASS address database.
---

Input File: path to input file(s) to process. Wild-card designations are applicable
Output File: path to output folder if an exported file is applicable.
---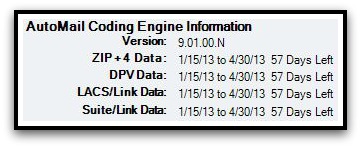 Version: USPS® certifies CASS software solutions in "cycles", denoted by a single letter value. As the example screen-shot above shows ...the present cycle is 'N'. The next cycle will be 'O'. The AutoMail® major version (9, in the above example) coincides with the CASS cycle.
ZIP + 4 Data: displays expiration date of ZIP + 4 database
DPV Data: displays expiration date of "delivery point validation" database
LACS/Link Data: displays expiration date of database which stores 911 system address changes
Suite/Link Data: displays expiration date of database which stores highrise default address records

NOTE: All four from - to dates, and remaining days before expiration, should always be identical.
---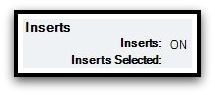 Inserts: ON indicates that the resident functionality for calculating inserts is active. This is toggled ON / OFF via the Feature Selection screen.
Inserts Selected: refers, specifically, to any / all inserts activated within the Insert Setup screen.

NOTE: It is best to leave the 'Feature Selection' option set to ON, and toggle explicit inserts on / off as needed.
---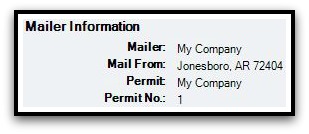 Mailer: your organization name
Mail From: location / post office from which mailing is shipped
Permit: holder of the USPS permit
Permit No: your USPS Permit Number

NOTE: These values are configured in the Mailer Info screen.
---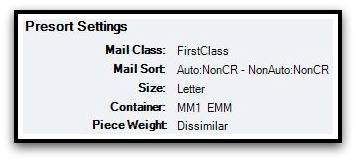 Mail Class: class of mailing (e.g. First Class, Standard, etc.)
Mail Sort: automation mailing, non-automation
Size: type of mailpiece (e.g. Letter, Flat, etc.)
Container: refers to the mail trays / containers being used
Piece Weight: Identical weight mailpieces or dissimilar weight mailpieces. Only one or the other can be processed in the same manifest.
---

Payment Type: type of payment (e.g. Permit Imprint, Meter, Precancelled Stamp)
Piece Size: size of envelope or mailpiece in length / width

NOTE: These values are configured in the Mailpiece Specs screen.
---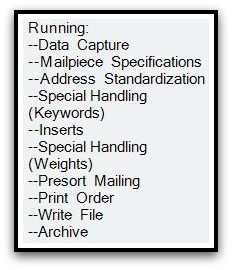 Text on the right-hand side of the Batch Summary screen which displays the literal running order for AutoMail®.
---