Demonstrates the default path of the archive / backup (compressed .zip file). The default path is permanently set with the Program Settings menu.
---

By default, all AutoMail® Archives are named with a naming convention of AM--<ProfileName>_<YYYY>_<MM>_<DD>.zip. If an alternative naming convention is desired enter it here.
---

A most common use of Archive functionality is the ability to restore an original file(s) in its state prior to AutoMail® processing. All Batch files are listed, but one needs only to identify the original input file name, select, and click the Restore button. This function can be performed on as many files as needed. Restore functionality limits selecting and restoring file one at a time.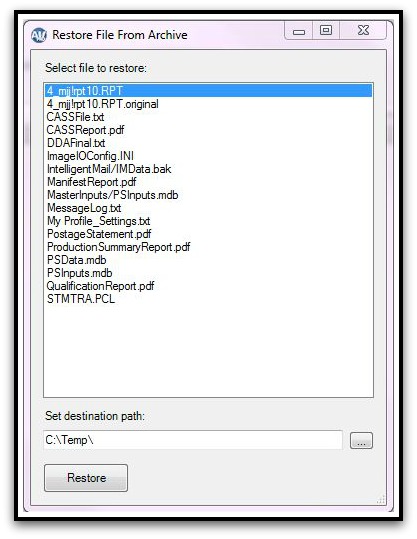 ---

Create and Archive the Reports in PDF allows for selective, and additional, PDF Archives outside of the default set of reports generated for Archive by AutoMail®. It's key function is to allow for the ability to archive specific reports to an alternative location.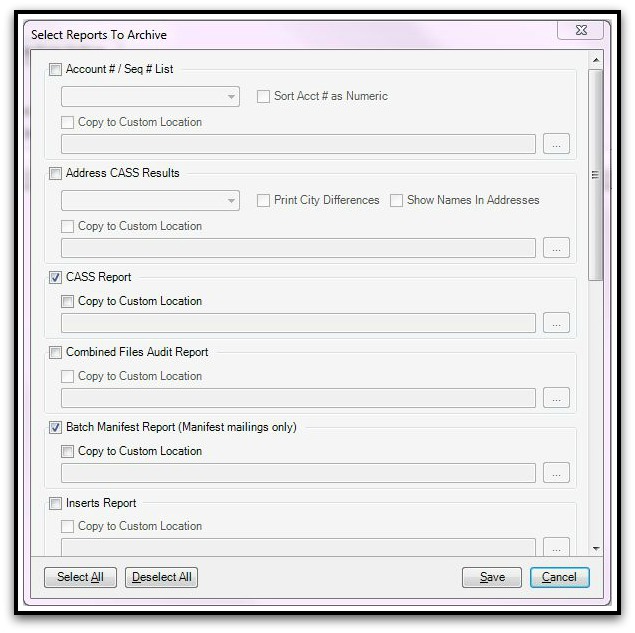 ---

Additional files can be added to be archived. An example use for this function is to select files which AutoMail® will not archive by default; such as a vendor's image layout file or image reconciliation file. These files are paired to an original document file, and if restoring were necessary these additional image files would be necessary along with it.
---